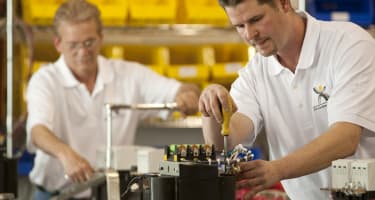 Fusible Disconnect Rotary 1200 Amp NEMA 4 600V
The Fusible Disconnect Safety Switch 1200 Amp NEMA 4 3 Pole 600V features a standard NEMA 4, pad lockable rotary handle and door, power on pilot light, and ground bus. Ideal for use with Class L fuses.
Factory modifications are available—call a PSI Power & Controls representative at 704-594-4107.
Protection is just milliseconds away!
Prevents injury to personnel
Prevents property and equipment damage
Helps prevent against property loss
Non Fusible Disconnect Rotary Handle 1200 Amp
NEMA 4 Steel  Enclosure 72″H x 36″W x 24″D

1200 Amp 3 Pole 3 Wire 600 Volt Max 100 kAIC

Line and Load Lugs (4) Wires per Lug #2 – 600 MCM
Ground Lug Included
Note "Add Neutral Bar Kit Assembly if need for 4 wire system"
White Power On LED Light installed on door