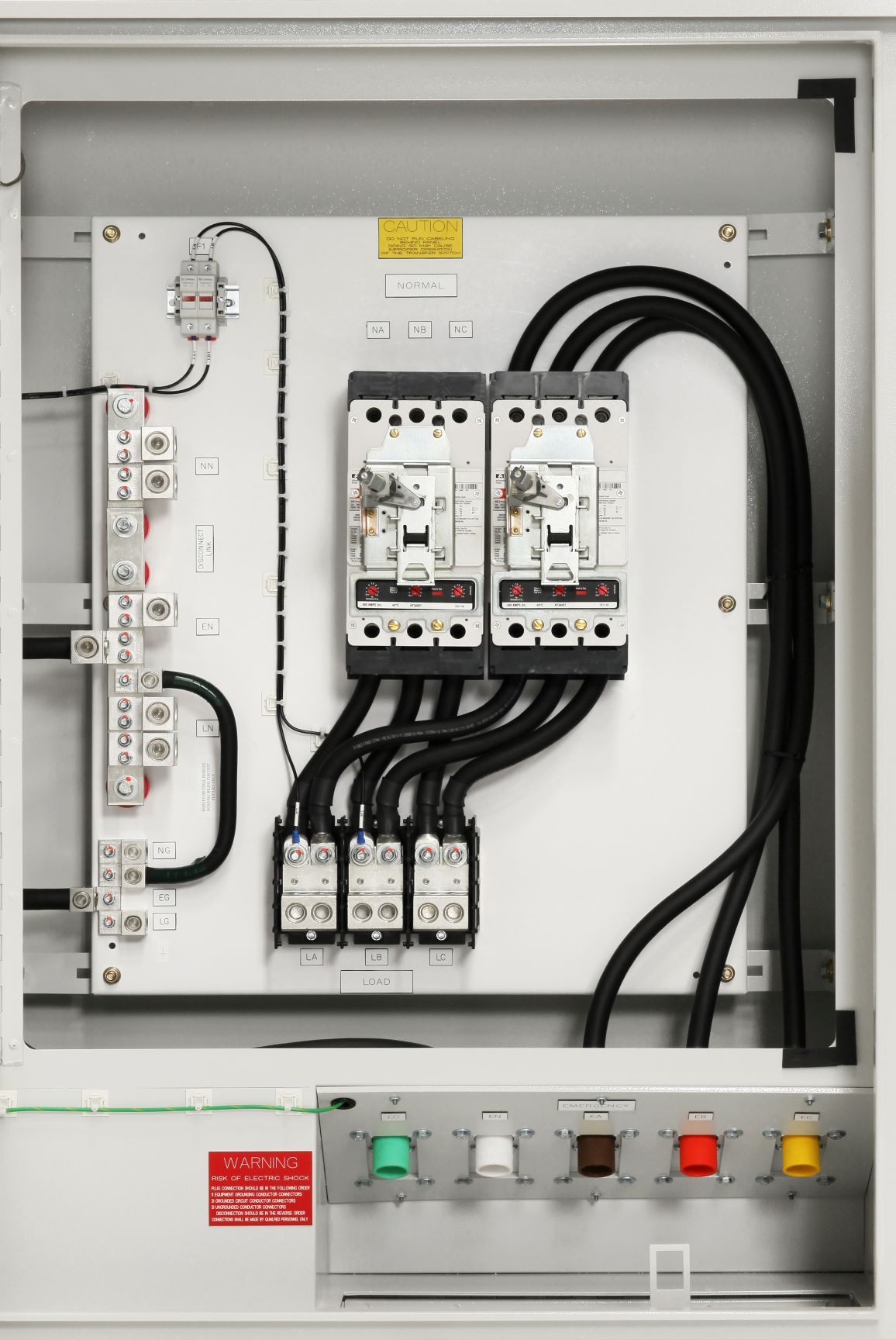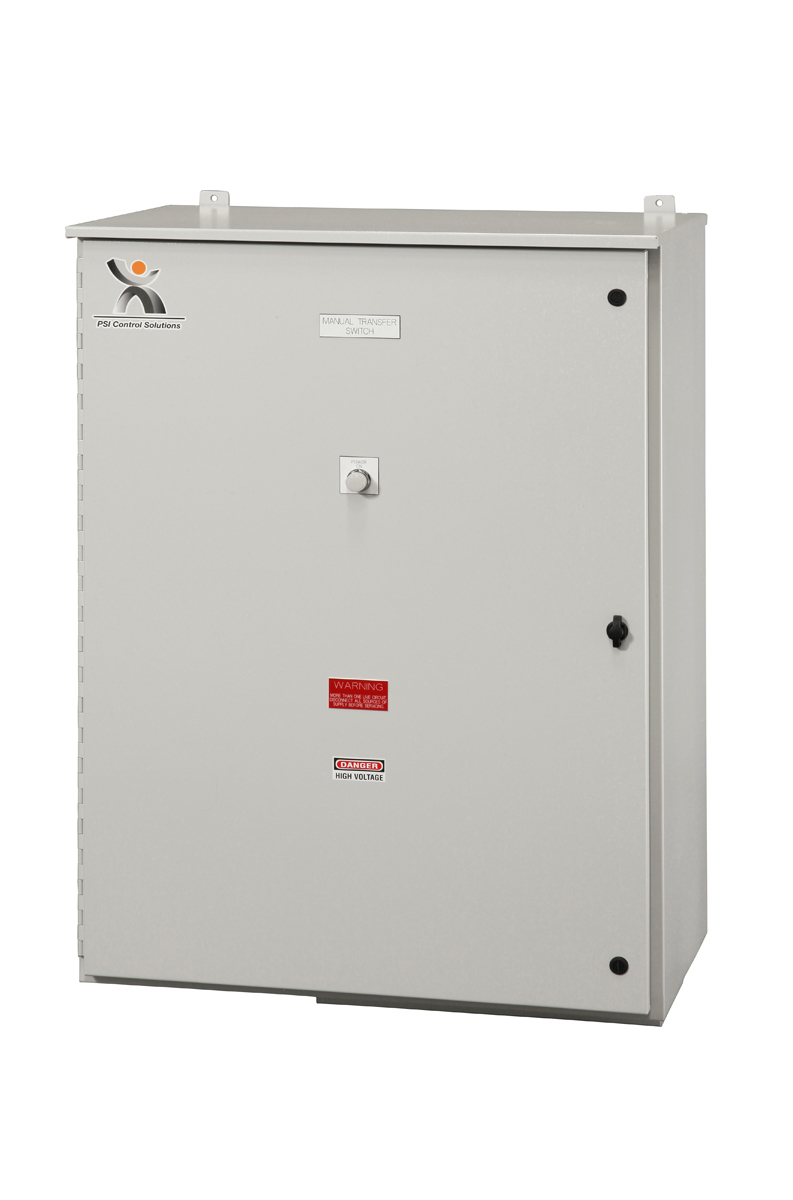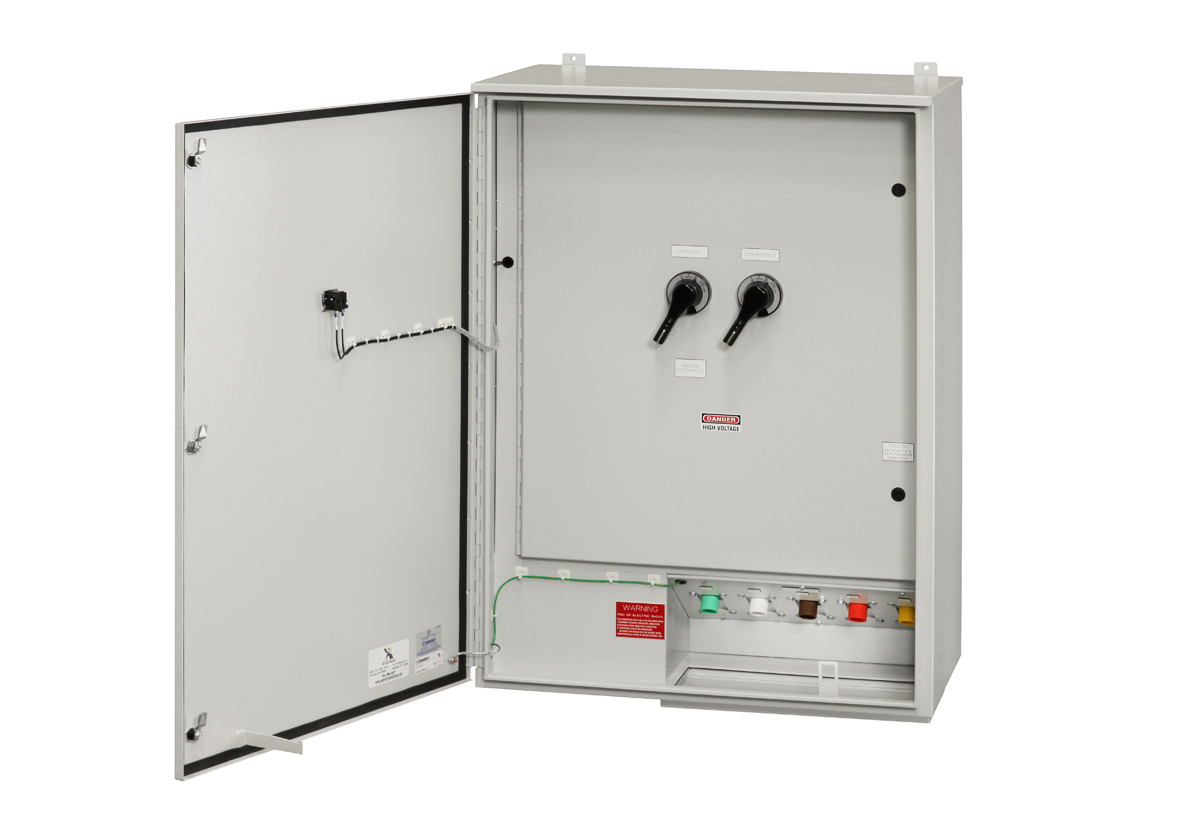 Manual Transfer Switch – Breaker/Breaker Generator Tap Box Combination
Amps
Voltage
Enclosure
Cam-Lok Receptacle Gender
Add-On Options:
Phase Reversal, Loss, and Undervoltage Protection Relay 1200 thru 4000 Amps
Breaker Auxiliary Contacts 2-N/O or 2-N/C or 1-N/O 1-N/C
Trumeter

PSI's Manual Transfer Switch – Breaker/Breaker Generator Tap Box Combination is cETLus listed to UL standard 1008, and CSA C22.2 #178.1.
Your manual transfer switch and breaker are like the doorways to your generator, letting power through from your primary circuits while beefing up your safety. This small piece of technology is more robust than an interlock kit and does a better job of meeting NEC requirements. This particular combination is available in 200 to 600 amps — plenty of power for household usage. As a three-phase product, it delivers more power for the same amperage. The specifications of your transfer switch breakers need to match the load of your generator. Power density supports a larger number of generators, so if upgrades are in your future, this is your ideal solution. The product has a phase reversal relay and molded, interlocked circuit breakers. The receptacle is color-coded and easy to connect to a portable generator. It comes with optional 480-volt circuit breakers and has a secure locking door.
Manual Power
The automation of your switch is one of the most important choices you'll make for your generator. As the name suggests, a manual product is turned on and off by hand, while an automatic transfer switch keeps your generator permanently connected to your home. This particular transfer switch is designed for portable generators, so it turns on and off manually.
Indoor-Rated Products
Transfer switches can be rated for indoor usage or indoor plus outdoor use. The latter can generally cope with moisture, provided it's not excessive. Outdoor products are water-resistant, but not always watertight. Indoor units can often cope with minor splashing, but not rain and ice. For that reason, an outdoor-rated product might be preferable in laundry rooms and basements. This PSI product is water-resistant, but not waterproof. Stainless steel gives it a rust-resistant shell that copes well with humid weather. It can withstand minor splashing but is indoor-rated. That makes it suitable for temporary outdoor usage under supervision.
The breaker and transfer switch are ETL-listed, so Intertek has put it through a series of stringent tests to assure its quality. It complies with accepted U.S. safety standards. The ETL mark tells you that the product is efficient and complies with the NRTL program. That includes OSHA and NRTL. As an industry leader and OSHA-recognized body, Intertek is one of the industry's most trusted marks of quality.
PSI Power & Controls bring you the finest engineering and design, so contact us for more information at 704-594-4107.
Description
PSI Power & Controls offers manual transfer switches that use two molded case circuit breakers interlocked with a mechanical walking beam; these are offered in 100-600 Amps. Each breaker provides over current and short circuit protection. Enclosures are  NEMA 3R.
200 Amp 35kAIC @ 480 Volts 65kAIC @ 240 Volts 3 Pole
225 through 600 Amps 65kAIC @ 480 Volts 100kAIC @ 240 Volts 3 Pole
For additional questions about breaker transfer switches and manual transfer switch breaker/breakers, contact PSI Power & Controls today at (704) 594-4107.
Product Usage
For business owners, nothing is more frustrating than losing power in your store, office, or commercial property. Without it, many critical duties and responsibilities are delayed or lost entirely—your heating and cooling system, electrical system, security system, computer networks (including individual workstations, servers, printers, etc.), and your building's tankless water heater are just some of the vital systems relying on electrical power in your business.
Manual transfer switch breaker/breakers offer emergency power solutions in a variety of applications, including:
Lift stations
Gas stations
Data centers
Grocery and retail
Water/wastewater facilities
Health care facilities
Don't see your industry listed above? We can help! For questions about manual transfer switch breaker/breakers, contact PSI Power & Controls today at (704) 594-4107.