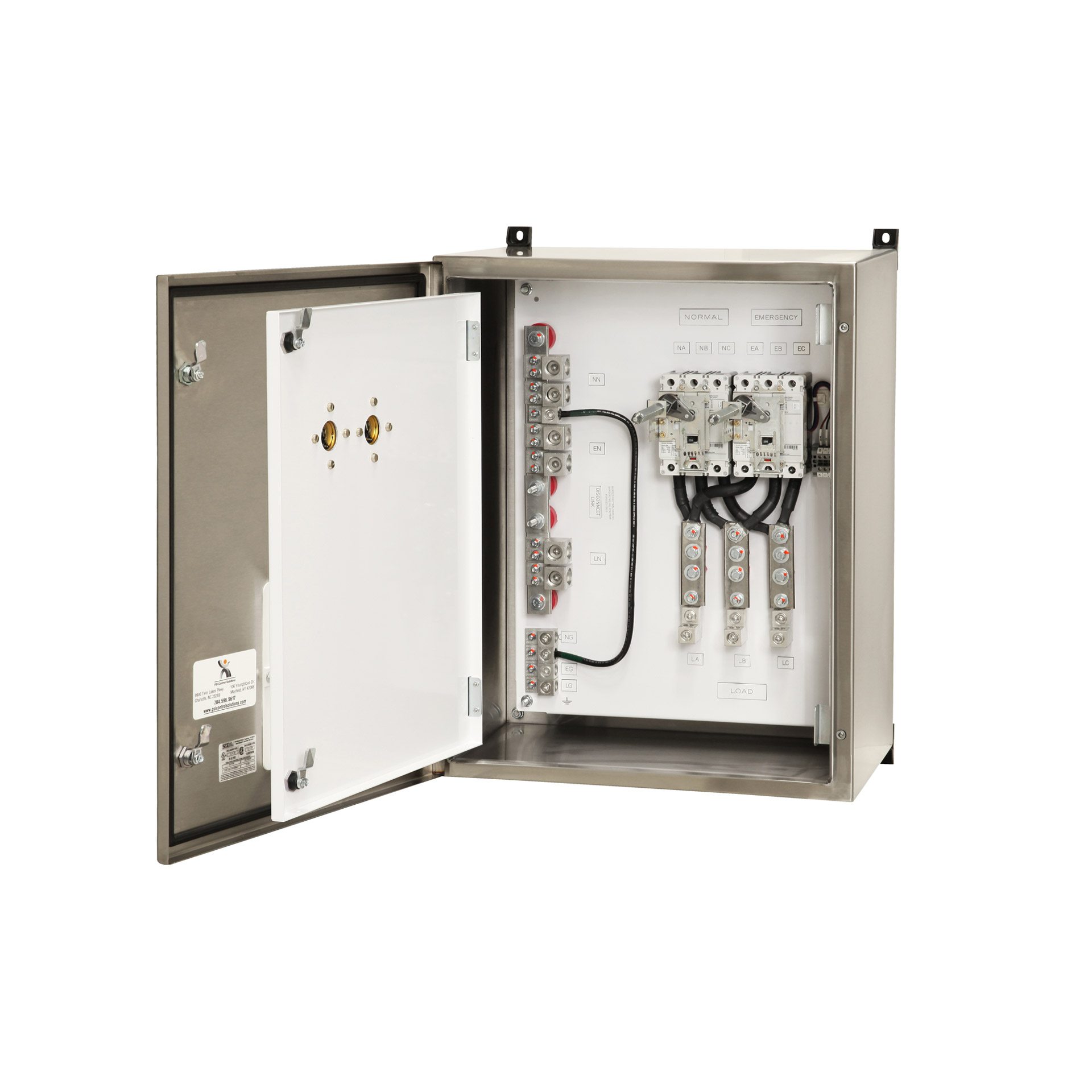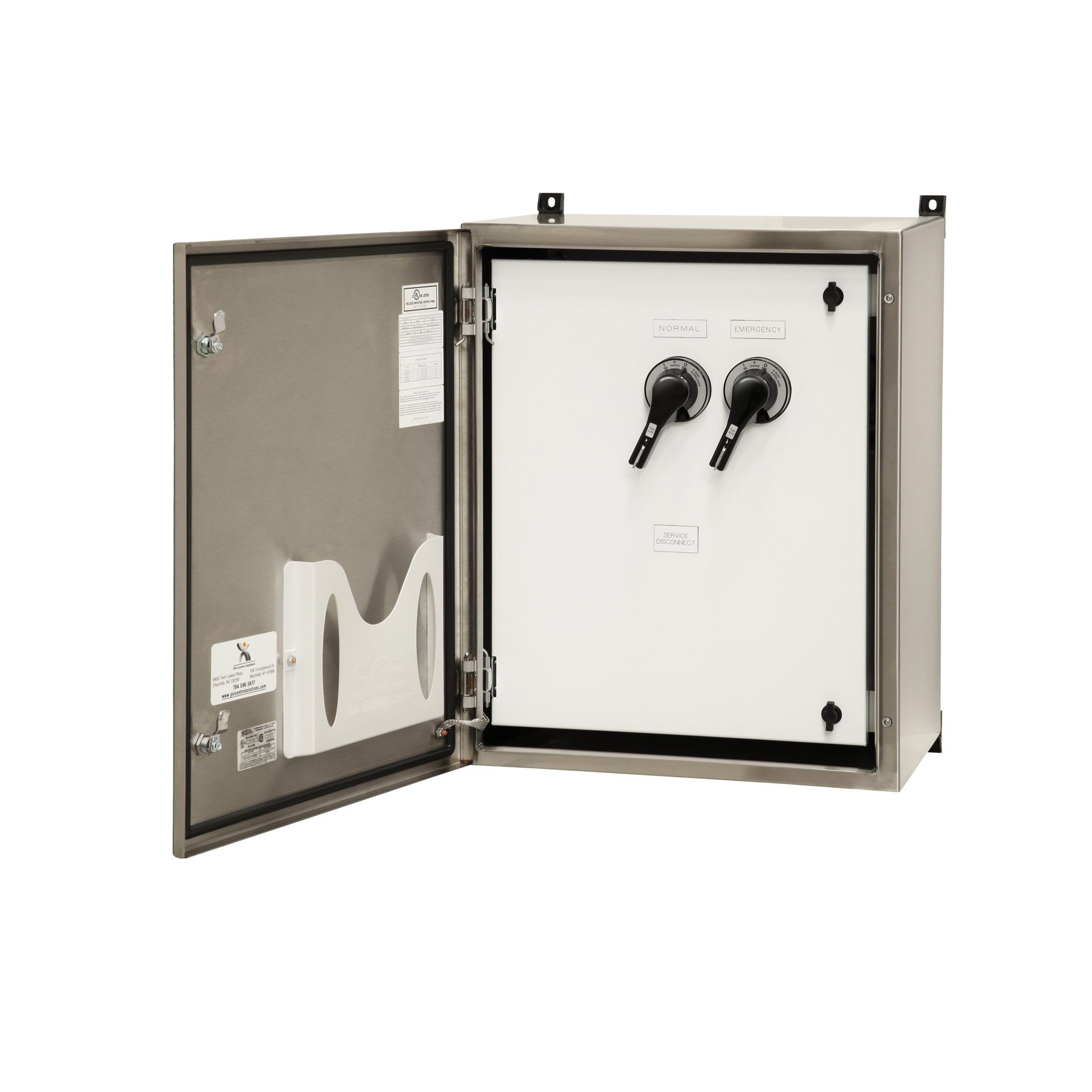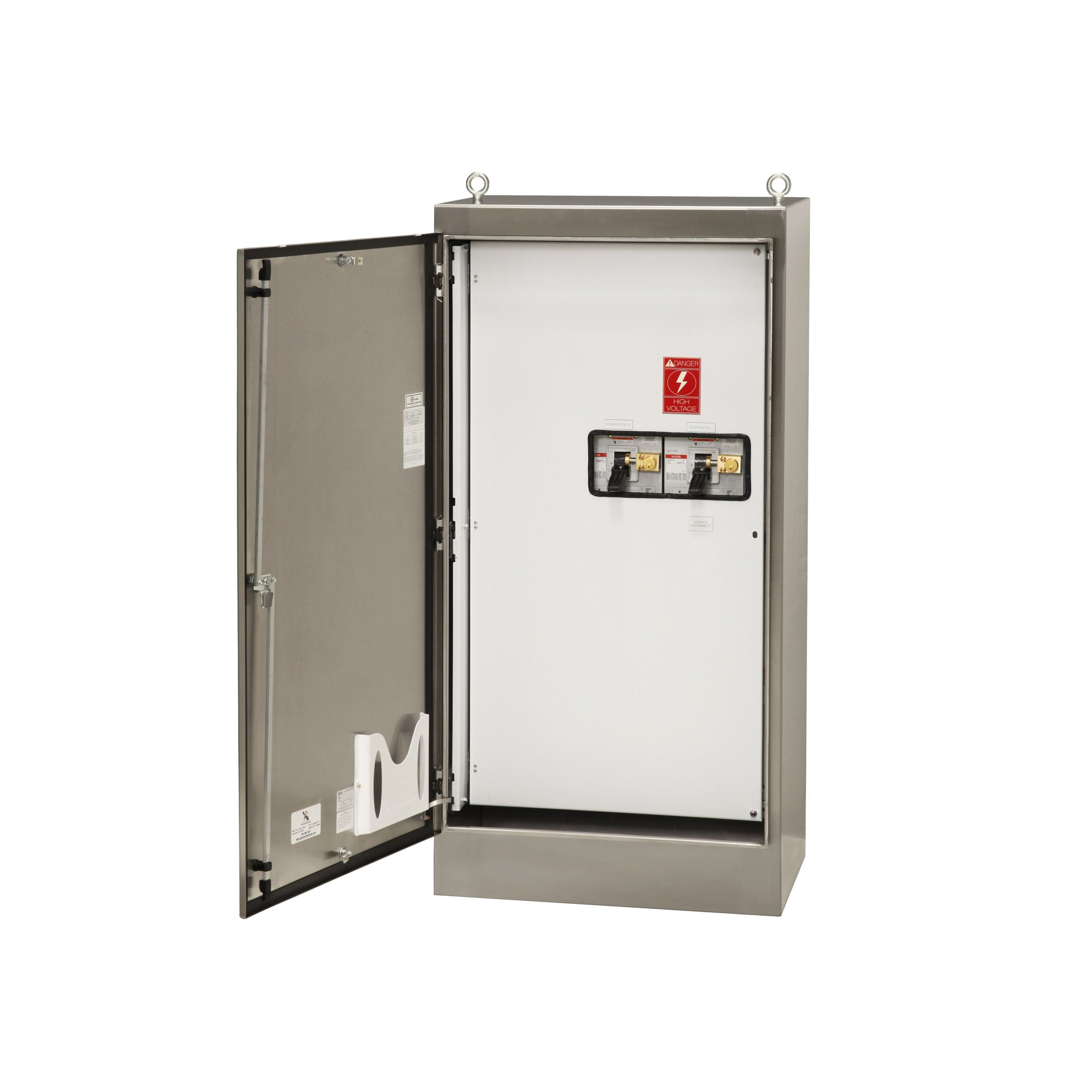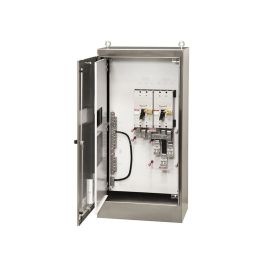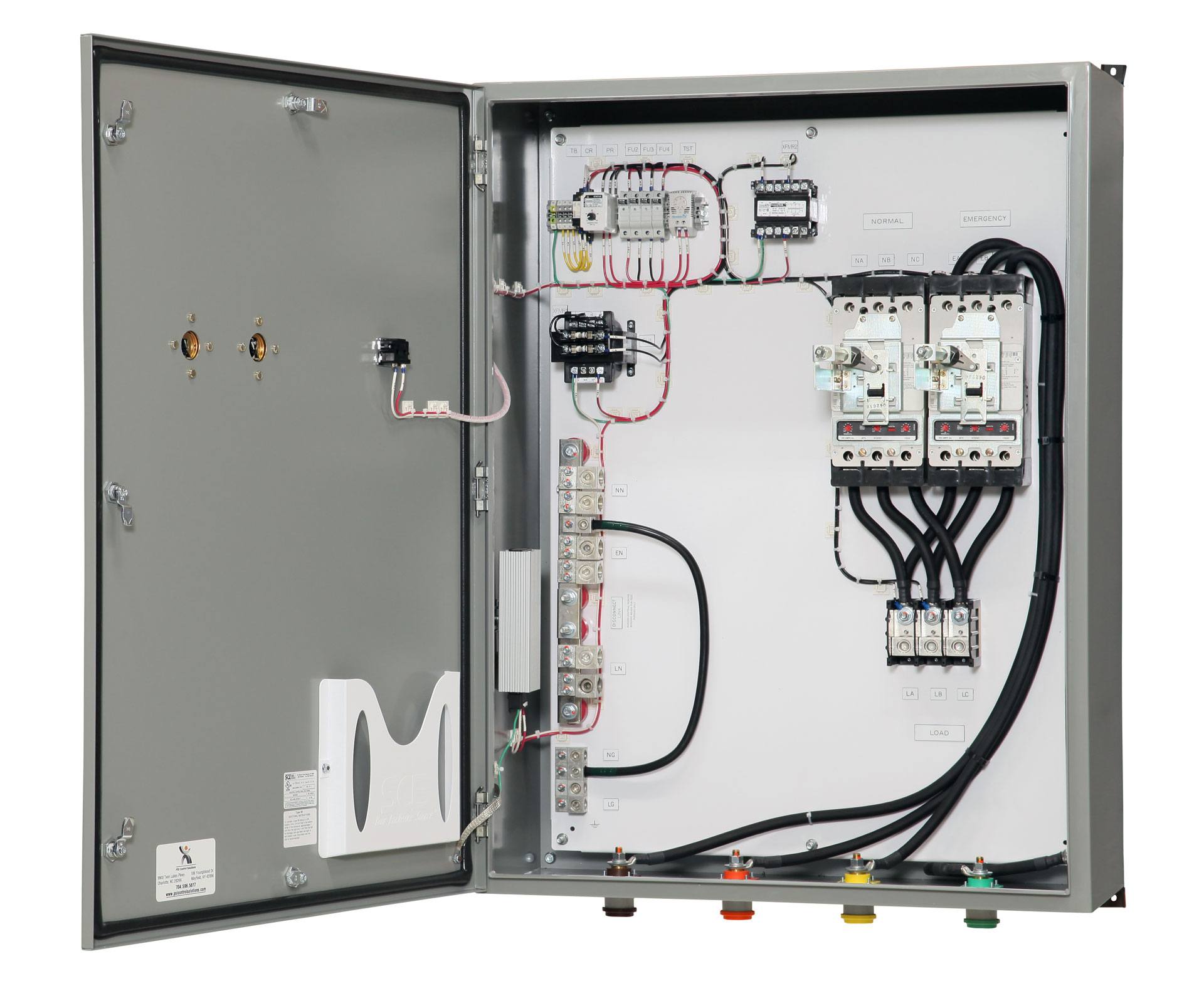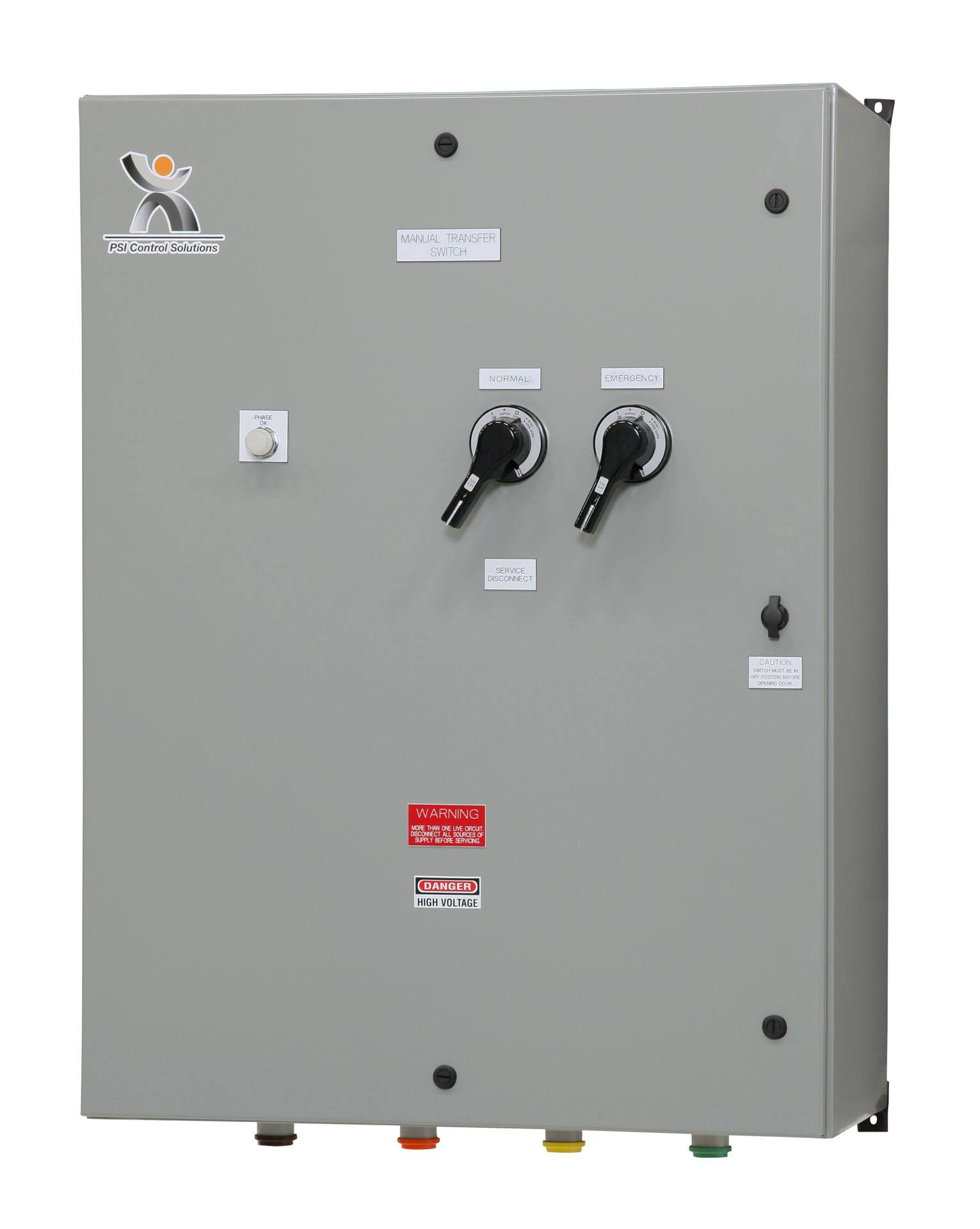 Manual Transfer Switch Breakers
Amps
Main Device Mounting
Enclosure
Add-On Options:
Phase Reversal, Loss, and Undervoltage Protection Relay 1200 thru 4000 Amps
Kirk Key Interlock per breaker
Ground Fault Relay Kit 1000-1200 Amps 480 Volts
Breaker Auxiliary Contacts 2-N/O or 2-N/C or 1-N/O 1-N/C
Trumeter

Description
PSI Power & Controls offers manual transfer switches that use two molded case circuit breakers interlocked with Kirk Key Interlocks; these are offered in 100-1200 Amps. Each breaker provides overcurrent and short circuit protection. Enclosures are either NEMA 3R or NEMA 4X 316 stainless steel.
Normal and Emergency LED Pilot Lights are supplied. The transfer switch will be "Service Entrance Rated and Labeled." Please add Ground Fault option for 1000-1200 Amp 480 Volt Enclosed Circuit Breakers. The pilot lights are mounted on the door of the enclosure and the breaker handles are mounted on a dead front inside the enclosure.
200 Amp 35kAIC @ 480 Volts 65kAIC @ 240 Volts 3 Pole
225 through 1200 Amps 65kAIC @ 480 Volts 100kAIC @ 240 Volts 3 Pole
For additional questions about circuit breaker transfer switches and manual transfer switch breakers, contact PSI Power & Controls today at (704) 594-4107.
Product Usage
For business owners, nothing is more frustrating than losing power in your store, office, or commercial property. Without it, many critical duties and responsibilities are delayed or lost entirely—your heating and cooling system, electrical system, security system, computer networks (including individual workstations, servers, printers, etc.), and your building's tankless water heater are just some of the vital systems relying on electrical power in your business.
Manual transfer switch breakers for generators offer emergency power solutions in a variety of applications, including:
Lift stations
Gas stations
Data centers
Grocery and retail
Water/wastewater facilities
Health care facilities
Don't see your industry listed above? We can help! For questions about manual transfer switch breaker/breakers, contact PSI Power & Controls today at (704) 594-4107.
Drawings
Select the Amp Range, and Enclosure Rating that match your desired product to download the drawings.
Breaker handles or hidden and protected by a dead front in the enclosure.