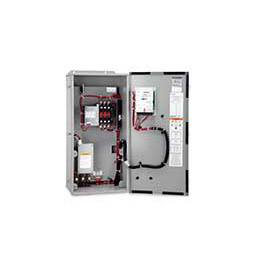 Eaton Automatic Transfer Switch Contactor Operation
| | |
| --- | --- |
| Amps | |
| Number of Poles for Switch | |
| Enclosure | |
Description
Eaton Automatic Transfer Switch with Contactor as switching devices
Open Transition
UL1008 Labeled
Wall and Floor Mounted NEMA 1, 3R, 4X
Multi-Tap Transformer with Primary Tap Voltages 600 480 240 208
Eaton ATC-300+ Controller
Enclosure Size
200-400 Amps H=52″ W=19.81″ D=16.75″
600-1200 Amps H=79.41″ W=25.25″ D=22.46″
1600 Amps H=90″ W=40″ D=48″
Automatic transfer switches are effective for emergency power solutions, offering a safe and very swift automated connection between standby or supplemental power sources and powered circuits in your business. The switch, in tandem with a tap box or docking station, establishes and rapidly switches from utility power to portable or standby generator systems within less than a second, offering sustainable and dependable power solutions to a wide range of businesses.
Amp ranges range from 200-1600 in accordance with your amperage needs, and the switch can be configured for three or four poles. Product comes standard for open transition configuration, and features cutting-edge compartmentalized systems for easier access, connection, and maintenance.
Product Usage
The Eaton automatic transfer switch with contactor bypass isolation operation is particularly effective in businesses that need safe electrical access, as well as businesses that routinely utilize auxiliary power for maintenance or performance testing. Automatic transfer switches are highly valuable in critical applications that cannot afford downtime or even a moment's hesitation in electrical access, as switching to secondary power can be achieved in a fraction of a second.
The transfer switch creates stable connections with utility power and your business, routing them to portable or permanent generator systems. In the event of an outage caused by poor weather or utility outage, the switch will detect power loss and automatically switch to emergency or secondary power sources. When utility power once again becomes stable , or maintenance is completed, the automatic switch will reverse, returning primary utility power hands-free.
Automatic switches are necessary in many business applications, including data centers, the medical field, correctional facilities, retail and food service, as well as hotels and other hospitality service industries. Because of the speed and safety of automatic switches, you can rely on them to keep power stable at all times with no interruptions or loss under normal working conditions.
Resources
Terms and Conditions
Accessories
IN addition to Eaton products offered by PSI Power & Controls, our experts also provide a range of accessories and additional products that suit the application and operation of the Eaton automatic transfer switch with contactor bypass. Additional accessories include:
Testing Kits. Our testing kits make keeping your ATS calibrated and tested simple and easy, offering swift assessment of the product for routine maintenance and general product quality assurance.
Cam-Lok® power cables. Color-coded Cam-Lok® cables are available as a standalone product, or additional cables in order to make easy and simple to identify connections from your PSI product to your business' desired circuits.
Generator tap box wall mount with side compartment. PSI tap box products make setting up, mounting, and implementing your new automatic transfer switch simple and stress-free,giving you all of the access to auxiliary power you need.