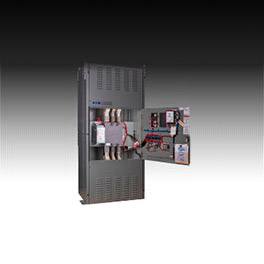 Eaton Automatic Transfer Switch Breaker Operation
| | |
| --- | --- |
| Amps | |
| Number of Poles for Switch | |
| Enclosure | |
Description
Automatic transfer switches offer a safe, quick, and convenient method of swapping from utility power to auxiliary or portable power sources in the event of an emergency. When an outage occurs the automatic switch will shift to emergency power sources within a fraction of a second, minimizing safety risks and downtime.
The Eaton automatic transfer switch with breaker operation allows for smooth transition so that your business can remain productive and safe in any event, planned or unanticipated. The product is available in a range of 200-1000 amps per your needs, with the 1,000 amp product offering ground fault protection in addition to standard protections. The switch also features both three and four pole configurations.
A breaker-operated ATC-300+ Controller allows for greater flexibility and control, allowing businesses to control switching parameters as well as threshold ranges.
Wall Mounted NEMA 1, 3R, and 4X enclosures offer additional defense against snow, rain, sleet, and high winds and are capable of effectively protecting products both indoors and outdoors. The 4X enclosure also features additional resistance to corrosive materials common to industrial workplaces.
UL1008 Labeled
Service Entrance Rated
Multi-Tap Transformer with Primary Tap Voltages 600 480 240 208
Eaton ATC-300+ Controller
200 Amps H=56″ W=20.81″ D=16.65″
400 Amps H=64″ W=25.81″ D=16.65″
600-1000 Amps H=76.74″ W=25.81″ D=17.75″
Product Usage
Transfer switches offer a safe means of restoring power within your facility and are commonly available in both manual and automatic modes. This automatic transfer switch product executes a switch from primary to auxiliary or emergency power within mere moments, requiring no effort or manual interaction on the part of personnel. This makes it ideal for use in businesses where even a second of downtime can cause complications or dangers. Automatic switches are typically employed in businesses including hospitals, emergency facilities, industrial facilities, manufacturing, chemical plants, and similar businesses.
The Eaton automatic transfer switch with breaker operation provides breaker-controlled power solutions effective for maintaining connection with lights, HVAC systems, security systems, critical appliances, industrial equipment, medical equipment, and more.
PSI products are fabricated and customized to be a perfect and simple solution for all of your emergency power needs. However, be certain to match your product appropriately to address you specific needs, noting amp ratings and pole number correctly for optimal results. If you have questions or need help, never hesitate to contact a PSI specialist!
Resources
Terms and Conditions
Accessories
As a leading power solution and safety equipment supply company we prioritize offering our client's a wide range of tools and accessories to maximize your results and safety. With this automatic transfer switch product we provide:
Testing kits. PSI-issued testing kits are ideal for performing simple maintenance and troubleshooting on applicable products. These offer an effective means of spotting early issues and keeping systems calibrated as needed.
Cam-Lok® connection cables. Cam-Lok® power cables are color-coded and available in standard male/female, male/male connection types for faster and safer connection to alternative power sources in the event of an emergency. Color-coding can be customized to each client's needs for a minor customization fee.
Generator tap box products. Tap boxes play a primary role in the safe use and operation of transfer switches and generator power. A wide range of PSI tap box products are available for your needs.