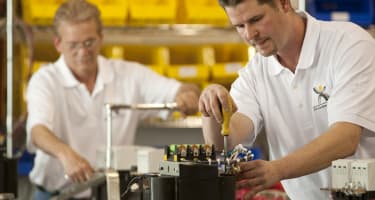 PSI Power & Controls Featured on Fox's Manufacturing Marvels
OEM
Two minutes isn't long, but it's long enough for viewers of Fox's Manufacturing Marvels to get an idea of what we do at PSI Power & Controls. Our North Carolina-based company was recently featured on the show, and we're proud to say it gave us an opportunity to highlight the superior quality of our products and the solutions we offer.
During our segment, the Fox team highlighted our specialty custom OEM control panels and power metering equipment. While our moment in the spotlight was brief, we got to demonstrate many of the reasons our clients choose our components and systems for their needs. Specifically, because our custom-built products are precision-engineered to deliver superior safety, productivity, and control.
As an ISO-, UL-, and ETL-certified company, PSI offers a comprehensive range of custom products our clients can depend on. These include:
PSI Power & Controls Is the Best Choice for Your Business
At PSI, the quality of our products is paramount, and we dedicate considerable resources to ensuring our custom solutions fit your needs perfectly. Whether we're designing emergency power solutions, custom control panels, switches, or starters, our thorough processes and procedures ensure we always deliver superior quality and performance.
We understand the needs of a broad range of industries, including retail operators, grocery stores, entertainment and hospitality, and of course, manufacturing and industrial businesses, which are our largest clients. Our products are designed to withstand the daily rigors of everything from shipyards and factories to restaurants and amusement parks.
Our teams are dedicated to delivering exceptional quality, and we guarantee our products will meet your specifications and exceed your expectations. When you want reliable performance built by a team you can trust, you can always depend on PSI to provide superior solutions that will give your business the power you need to achieve your goals and serve your clients.
Contact PSI Control Solutions at (704) 594-4107 to learn more and speak with a PSI representative about the solutions you need for your business.