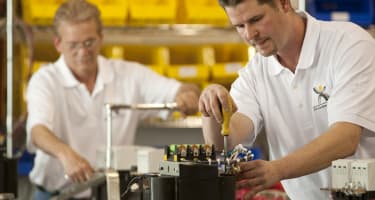 Custom Control Panels for Hazardous (Classified) Locations
OEM
Hazardous Area Classifications & Electrical Protection
When considering the safety of employees working at industrial plants, fires and explosions are a risk employers must account for and protect against. In geographic areas where natural disasters are common, for example in the southeast United States coastal region where hurricanes often make landfall, organizations must also protect their electrical equipment and components from outdoor elements like water submersion, rain, dirt, etc.
At PSI Power & Controls, we specialize in the design and fabrication of custom control panels for hazardous locations in accordance to NEMA standards to provide maximum safety and protection against life and property loss.

What Is a Hazardous Area/Location?
A hazardous area is a place where any concentration of flammable gases, vapors, or dusts are present. Any control panel fabricated for a hazardous area must be clearly marked and labeled to designate where the panel can and cannot be used. This includes:
Class
Division
Group
Maximum temperature or temperature ranged for safe operation (based on a 40 degree Celsius (104 degrees Fahrenheit) ambient
Other special conditions (ask a manufacturer for special conditions)
Some of the industrial applications our control panels for hazardous locations help protect include:
Oil refineries
Gas refineries
Landfills
Water purification plants
And more
Electrical Protection in Hazardous Areas/Locations from PSI
At PSI Power & Controls, we engineer custom control panels built to operate in environments where concentrations of flammable gases, vapors, liquids, or combustible particles pose risks of ignition and/or explosion. Our team of engineers design UL- and CUL-certified panels for hazardous locations, as well as NNNY- and NNNY7-certfied composed with a heavy metal cast NEMA 7 explosion-protected enclosures. This includes control panels for use in:
Class I, Division 1 (Explosion-Proof)
Class I, Division 1 (Purged/Pressurized Type X)
Class I, Division 2 (Purged/Pressurized Type Z)
Class I, Division 2 (Nonincendive)
Class I, Groups A, B, C & D
Class I, Division 2, Groups A, B, C & D
To learn more about hazardous location requirements, call PSI Power & Controls. Our staff is industry trained to answer any questions about control panels, hazardous locations, and their applications—704-594-4107.