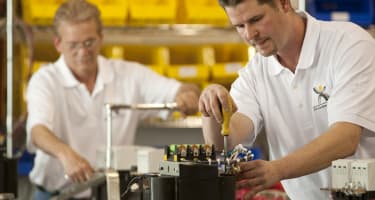 Do I Need a Custom Control Panel?
OEM
When it comes to the electrical supply and overall control in your commercial business or industrial workshop, the control panel is essentially the heart of each machine, tool, and operation. But a poorly designed, insufficient, or incompatible panel can make running operations smoothly an absolute nightmare.
Have you found yourself wondering if you need a custom control panel? If so, then PSI Power & Controls is here to help!
For automation control and control panel services, PSI Power & Controls stands unmatched. Our team has assisted with the control and monitoring needs of industrial and commercial businesses for years, and as a certified custom panel design and build team, we understand how valuable effective custom solutions can be.
Looking for custom control panel services or panel design and fabrication for your commercial or industrial business?
Contact an expert at PSI Power & Controls today, or call us any time.
What Is a Custom Control Panel?
A custom control panel is built either as a single-source solution or as a complex control solution, designed with your specific needs in mind. These panels are typically constructed to address unique needs, such as panels rated to operate in hazardous locations, or as a means of tying together and smoothing the operation and monitoring of various and diverse operations.
Put simply, a custom control panel is your way to get what you need. A solution that is, as the name suggests, customized to meet specific purposes or exact requirements, where other OEM or standardized panels might not suffice.
Custom monitoring and control panels are an excellent solution if you feel your business could do with some simplification or you're looking for a way to streamline your processes.
Custom Control Panels Are Beneficial in a Variety of Applications
A well-designed custom control panel can make equipment operation easier and more straightforward, reducing the chance of equipment damage, property damage, and injuries. At PSI Power & Controls, we design and install a variety of custom control panels for many common applications, including:
Industrial control panels for alarm systems, variable frequency drives, motors, valves, starters, UL698A controls, and more.
Water and wastewater control systems for reservoirs, wells, booster pumps, greenhouses, and irrigation systems.
Wastewater lift stations, treatment systems, grinder systems, UV disinfection systems, and more.
Environmental monitoring systems for groundwater, solid waste, stormwater, landfills, leech fields, and other systems.
Material handling logic and controls for material handling equipment, conveyor systems, overhead cranes, forklifts, man lifts, and more.
Metering systems for monitoring and reporting power statics, including active and reactive power, voltage/amperage, and system status via various communication protocols.
We also offer OEM control solutions to integrate into your own equipment, saving your organization the time and expense of engineering your own solution. This lets your product get to market faster using quality controls from a trusted, experienced manufacturer.
Call (704) 594-4107 or contact us online to learn more about our control solutions and their possible applications.
Do I Need Custom Control Panels?
It depends, but the answer is often yes. Or rather, whether or not you need them, you can benefit from them. Modern machinery displays an exceptionally wide range of panels, which often differ even though the machines' tasks, and often overall design, are identical.
Do you find yourself tackling a different panel for each operation in your business? Would you benefit from more cohesion, simplification, and more compatible designs? If yes, then you certainly can benefit from custom panels.
In the end, it depends on your needs, the unique setup of your business, and what kinds of challenges you face with your current control panels and setup. That's why we suggest working closely with a team of certified engineers, like those at PSI Power & Controls, as experts have the experience and extensive knowledge needed to help you determine the best means of improving your business through custom panels, or whether you'd benefit from full design and fabrication services.
Looking for more information, or want to know more about the custom panel fabrication and design offered by PSI Power & Controls? Contact us today!
We're always happy to help, and our custom panel experts can offer the insight and answers you're looking for.