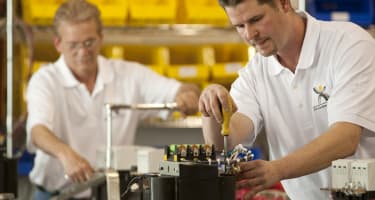 Why Is Contingency Planning Important for Businesses?
PSI Power & Controls Can Help Reduce Risk in Your Business
No matter what kind of business you own or operate, be it a retail store or a manufacturing plant, nothing is more detrimental than loss. Loss of employee health or security, loss of productivity, or even the loss of data and supplies are all hard to bounce back from—if you're capable of bouncing back at all. For these reasons, having a contingency plan in place is absolutely paramount, and today, PSI Power & Controls is going to help you get the ball rolling on yours.
Why Is a Contingency Plan So Important?
Having a plan means protection, as well as decisive action in the face of an emergency, which is often the difference between a small hiccup and a total loss of productivity. Something as simple as a data breach, power outage, or hours of downtime can place your business far behind. In today's market, being behind is just not an option we have.
Failing to build an effective plan can result in:
Loss of revenue
Potential health risks and risks of injury
Extensive downtime
Loss of equipment or assets
The Basics of a Contingency Plan
In a distilled sense, a contingency plan is any plan or course of action that helps your business mitigate harm and improve safety and security. These plans are designed to be acted upon during forms of crisis, be they something as common as a power outage, or something as potentially devastating as a natural disaster or workplace incident. A plan can take you from panic to successful mitigation and offer a simple yet effective way to get back on your feet should something go awry.
All good contingency plans account for:
Health and safety risks to employees and client's
Potential security risks
Effective methods of mitigating downtime
Product loss recovery planning
Financial crisis planning
Restoring power to you business
Getting Started with Risk Assessment
Every plan should begin with assessing the particular risks of and to your business. Are outages a problem? Does your business utilize equipment that could be harmful to employees during a crisis? Are your data systems and networks secure? Is your relevant insurance up to date? Are you located in an area that is prone to natural disasters? Identifying what kinds of problems can do the most harm to your business gives you a place to focus your efforts, and helps you to ensure you're actually planning for the things that matter most.
Common Contingency Plan Actions
Installing backup power systems. Outages are one of the most common causes of productivity loss and employee health risks. This is easily handled with backup power, such as a standby generator system equipped with an automatic transfer switch. A manual transfer switch is also a viable option to start a generator, and it can be paired with a generator tap box. A combination manual transfer switch with Cam-Lok® receptacles can be used for the ultimate convenience and speed in emergency situations.
Data security and problem planning. These days, data hacks are all too common. So, having backups, as well as upgraded network security systems, are vital.
Strengthening the scope of your insurance. Most businesses are savvy enough to have fire insurance, or flooding insurance. But failing to include things like theft, vandalism, and liability is a mistake.
Creating effective communication. In the event of an emergency clear communication might just be the strongest tool you can have. Develop a chain of communication that will relay a course of action to workers and associates in the event of an emergency.
Build a Better Plan with PSI Power & Controls
As a leader in custom emergency equipment fabrication, we're dedicated to helping businesses get equipped with the best in generator equipment, accessories, and safety tools. Looking for specialists that can set you up with ideal electrical emergency systems? Contact a specialist at PSI today!